Last year I got the chance to get a Radiola 16 (circa 1927) in excellent conditions.
This was the last of the battery operated radios made in the 20s. Overall it is very similar to the Radiola 18, but without the power supply.
I hope someday I will find the time to restore this one.
Tubes: 5 x UX-201A, 1 x UX-112A
The wooden cabinet is in good condition with only minor scratches. The bottom paper tag is readable.
I have a great companion to this radio, a wonderful Rola cone speaker from 1923 in working condition. Besides the cone speaker I also have a Radiola 100A speaker which was in GREAT condition, but was cracked during the shipping, and I am currently restoring it.
The interior is in good shape, the only notable thing is that the original interstage audio transformer (encased) seems to be burnt, and somebody placed a hedgehog wrapped in tape at the bottom of the chassis... besides that everything seems to be ok. But before even thinking in electronically restoring this piece, I have to build a multivoltage power supply to replace the batteries, so this is a long shot that will take quite some time.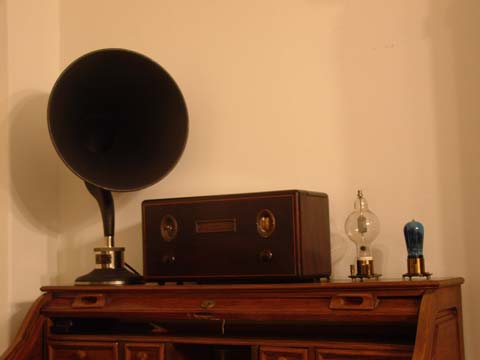 Click on the image to see a full size picture